Blog Posts
Posted by Cara Rajecki on
What is an Aromatherapy Shower Steamer?  A shower steamer is essentially a bath bomb for your shower.  It fizzes and releases essential oils into your shower to create an amazing, aromatherapeutic experience. Aromatherapy is thought to activate areas in your nose called smell receptors, which communicates with certain areas of your brain that affect your emotions. Whether it's stress, insufficient energy, certain types of pain, lack of motivation, lack of sleep, or lack of joy that you struggle with, essential oils are known to help improve these things.  How to Use: Simply place your shower steamer in the mesh bag (included in package) Activate...
Posted by Cara Causey on
A dry brush is made of stiff bristles and is used to exfoliate dead skin cells and enhance blood flow. It is meant to be used dry and on dry skin - hence the name "dry brush." Using the brush on dry skin increases the friction, which causes the exfoliation process to be more effective compared to using it on wet skin. 
Posted by Cara Causey on
Posted by Cara Causey on
Cait + Co will be at East Pole's Holiday Market this Saturday 12/15, from 11 am - 2 pm. We will have lots of great Christmas gifts! 
255 Ottley Dr.
Atlanta, GA 30324
Posted by Caitlin Abshier on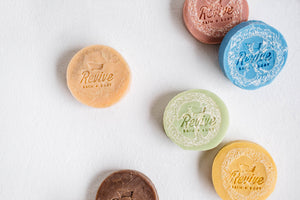 As we look to 2019, I'm excited to say Cait + Co will be launching 25 new products. Products that will bring joy and radiate beauty. With that, I do have some bittersweet news. At the end of 2018, we will be retiring Revive Bath and Body.